Leo A. Brooks, Jr., vice president, defense, space & security government operations for The Boeing Company (one of DiversityInc's 25 Noteworthy Companies), shared with DiversityInc how Boeing is not only recruiting veterans but also investing in their career advancement.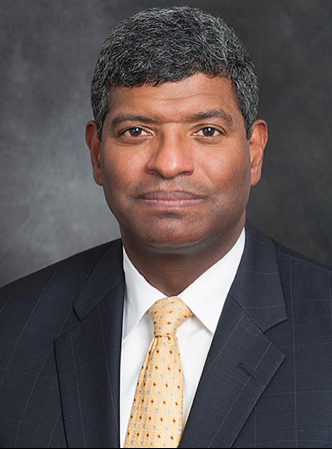 Leo A. Brooks, Jr.
Vice President, Defense, Space & Security
Government Operations
The Boeing Company
In this capacity, Brooks serves as the company's senior corporate liaison with the Pentagon, NASA and the Department of Homeland Security.
Brooks joined the company in August 2006 after serving in the United States Army for 27 distinguished years and retiring as a brigadier general. He commanded units in virtually every echelon of the Army including an Airborne Brigade in the famed 82nd Airborne Division, Deputy Commanding General of 1st Armored Division in Germany and Commandant of Cadets at the United States Military Academy. His last assignment prior to retiring was Vice Director of the Army Staff, Office of the Chief of Staff, in the Pentagon. In that capacity, he was the principal deputy to the Director of the Army Staff, responsible for integrating, coordinating and synchronizing the efforts of the Army staff to support Army and Combatant Commands in the global war on terrorism.
Why is your company focused on recruiting veterans? Describe your veterans recruitment/outreach initiatives.
Veterans create value in our company by demonstrating leadership, integrity and a collaborative problem-solving approach. During their service in the Armed Forces, veterans protected freedom and lived the tenets of discipline, excellence and precision. Boeing has a long-standing commitment to supporting men and women in uniform and military families by employing approximately 21,000 veterans who are continuing their mission with Boeing. We also engage in advocacy on behalf of veteran priorities and support a variety of military and veteran-specific programs and non-profit organizations.
Veterans are a critical part of Boeing's workforce strategy because our business demands that we maintain an active, diverse and skilled pipeline of talent. Our company continues to expand its product line and services to meet emerging customer needs, and veterans offer valuable perspectives in that pursuit.
In an effort to attract veterans to apply for positions within our company, we attend targeted career fairs, visit military installation transition classes and centers and build partnerships with veterans service organizations and government agencies that support veteran hiring. Boeing is proud to donate millions of dollars annually in funding and volunteer hours to support veterans and their families in the communities where we live and work.
Are veterans recruited for leadership positions? If so, have you had success in this area?
Boeing has a long tradition of aerospace leadership and innovation, and we're always on the lookout for top talent, especially from the veteran community. Veterans offer a unique skillset forged by high-pressure environments, mission-oriented teamwork and an uncommon sense of duty. These are qualities any employer would be lucky to have, and our veteran employees display them in spades.
Veteran leaders bring the values, skills and perspectives cultivated through their military experience to their roles at Boeing. For that reason we have a number of veterans in leadership positions guiding Boeing into our second century. In my case, I have been with the company for 10 years, following 27 years in the U.S. Army. Boeing invested in my transition from the military to corporate leadership positions with education, developmental experiences and mentoring. I am proud of the fact that Boeing recognizes we always have more work to do — to not only recruit veterans into our employment ranks, but to also ensure these individuals are serving in leadership positions across the company.
Once veterans are hired, do you have programs in place to retain and develop them?
Developing our people is as important to us as delivering quality products and services to our customers. Whether it's taking on a new assignment or volunteering our skills in communities around the world, Boeing employees strive to never stop learning. Boeing has invested more than $1 billion in our employees' college tuition, books and fees through our industry-leading tuition assistance initiative — the Learning Together Program. Full-time and part-time team members have the opportunity to participate, regardless of what stage they are at in their career, after just one year of company service. Employees can pursue degree programs, professional certificates and individual courses in strategic fields of study at more than 270 quality colleges and universities.
Our employees also have a unique opportunity to broaden and deepen their leadership capabilities at our center of excellence. Each year, thousands of current and future leaders from across our company travel to the Boeing Leadership Center from around the world so they can sharpen their skills, network with colleagues based around the globe and better position themselves to greet the challenges and opportunities our second century will bring.
Finally, we take employee mentoring very seriously at Boeing as our people grow in their careers with the company. Employees are paired with more senior leaders — sometimes from different parts of the business — to help develop their knowledge and understanding of the enterprise.
What challenge(s) has the company faced in recruiting or retaining veterans, and how has it overcome those challenges?
Competition for veterans has increased across our industry and throughout the business community generally. We continue to actively engage at targeted career fairs and visit military installation transition classes and centers to ensure that the unique career opportunities available at Boeing are communicated to active military, veterans and their families.
We actively take part in surveys and other career-building initiatives from the military to enhance the visibility of our opportunities for veterans.
We are also working hard to align our job descriptions with the specialized skills and abilities veterans can offer. At Boeing, we know how the service and sacrifices of military veterans can translate into the skills we need reflected in our workforce.
Boeing's military skills translator tool is one example of how we work to help transitioning service members understand how their military skills, civilian skills and formal education transform into Boeing career potential.
Do you have a veterans resource group? If so, can you describe how it has helped the company address or meet business objectives?
Yes, we have active Boeing Employees Veterans Associations (BEVA) and Veteran Task Force organizations across the enterprise. These groups work to enhance company and employee understanding of the issues unique to the military and veterans population, as well as create a welcoming community for all employees, highlighting the integrity and leadership attributes of military Veterans.
Externally, BEVA members actively support local service members, military family members and veterans through community service. These employees also play a vital role in our efforts to attract and retain veterans at Boeing. Finally, these BEVA groups offer a forum where employees that are veterans and military family members can nurture, encourage, mentor and support each other in their personal and professional development.