Please click on the play button to start the presentation.
[show_media_player video_source="http://diversityinc.com/webinar_series/March272012DiversityIncWebinar/032712diversity.flv" width="500" height="378" image_source="http://diversityinc.com/jwplayer/preview.jpg"]
Please click here to open video in new window. Click here to view the PDF presentation of this Web Seminar.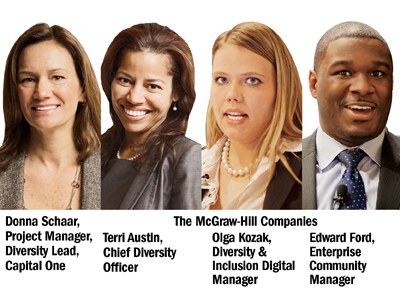 Diversity management is the key to identifying what's stopping your employees from doing their best work. But how can you find "barriers to greatness" in your company, and what can you do about it?
In our 90-minute Web Seminar on Innovation, Senior Vice President and Executive Editor Barbara Frankel relays some of the highlights and innovations in diversity management that Capital One, Toyota, AT&T, Novartis Pharmaceuticals Corporation and Kraft Foods shared at DiversityInc's Innovation Fest!.
The event showcased how diversity management helps people to think for themselves and make more intelligent decisions. Diversity management also helps foster innovation and fuel companies' abilities to generate more creative and profitable business solutions.
For example, Toyota Motor North America discussed how it solved a manufacturing problem and enhanced its manufacturing efficiency at its Lexington, Ky., plant by partnering with Lex-Pro, a nonprofit that helps people with disabilities reach their highest vocational potential.
TO SAVE THE RECORDING LOCALLY:
Right-click on the zip folder below and choose the option to "Save Target As..."

Go to the location of the saved zip folder, right-click on it and choose "Extract All..."

An Extraction Wizard will open; follow the prompts to save the folder. All necessary files will be saved within the folder and should stay there.

Within the extracted folder, you will find an HTML file: presentation.html. Open this file to play the web recording.
Download Link: -- zip folder --
*DiversityInc Web Seminar content may not be shared or reproduced. Downloads of the presentation are available for purchase at DiversityInc.com
During the diversity web seminar, Capital One's Donna Schaar, as well as Terri Austin, Olga Kozak and Edward Ford of The McGraw-Hill Companies, present their companies' innovations: Barriers to Greatness and Digital Employee-Resource Groups.
Capital One is working hard to create a culture of openness by surveying and analyzing the barriers to greatness in every way—operational, cultural, organizational—that prohibit employees from achieving maximum potential. Its Barriers to Greatness program helped the company identify and resolve 107 "barriers" to business efficiency within 6 months to enhance productivity and employee satisfaction.
(Watch the video below or view the presentation slides.)
"The innovation and success we've seen as a company is about the people we hire," says Schaar, Senior Director, Diversity & Inclusion. "Innovation links to talent development—that's truly what we believe. Diverse thought equals innovation."
McGraw-Hill's Terri Austin, Chief Diversity Officer, Olga Kozak, Digital Innovation Manager, Diversity and Inclusion, and Edward Ford, Enterprise Community Manager shared the company's digital innovations, which include a digital resource group—Learning, Empowering and Accelerating Digital (LEAD)—and a new, social-media-based company intranet. Business benefits cited include a flatter organization, product development, more efficiency and heightened engagement.
(Watch the video below or view the presentation slides.)
"Digital innovation is an enterprise goal. We are looking for ways to take diversity and inclusion beyond race and gender," says Austin. "We want to take diversity so businesses understand it's about the differences and how we innovate using those differences."