By Barbara Frankel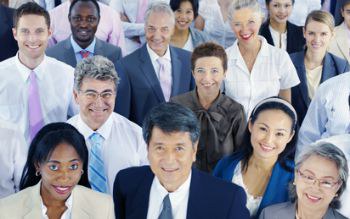 Photo by Shutterstock
With marriage equality now legal nationwide and anti-discrimination laws being approved on local and state levels, it has been a historical year for LGBT rights.
However, bias and hostility toward the LGBT community remains evident throughout the country — most recently when Kentucky Clerk Kim Davis refused to issue marriage licenses to same-gender couples in Kentucky.
The Human Rights Campaign reports that it is still legal in more than 20 states to fire someone for being a homosexual. And the Williams Institute on Sexual Orientation Law & Public Policy revealed that 15 to 43 percent of LGBT employees said that they experienced some form of discrimination or harassment within their workplace.
So what's at stake if you don't recruit and retain LGBT employees? The answers are in the numbers. Conservative estimates put the LGBT population at roughly 10 percent throughout the United States.
According to a 2013 study by the Center for Talent Innovation, LGBT employees are well-educated, with 48 percent having advanced degrees vs. 40 percent of heterosexual employees.
What's the best way to recruit LGBT employees?
Attend job fairs and professional networking events and, most importantly, be branded as inclusive.
Three key points:
• Have the right culture — one with a no tolerance for discrimination
• Have the right benefits, including for transgender employees
• Have the right support system, especially an LGBT and friends employee-resource group
Culture & Benefits 
Being branded as an LGBT-inclusive employer takes effort. Companies that receive a 100 percent score on the Human Rights Campaign's Corporate Equality Index have to go through several qualifying steps, including offering transgender reassignment benefits. By 2016, companies will also have to show they require their contractors to be inclusive and make substantive recruiting efforts.
Forty-two of the DiversityInc Top 50 earned 100 percent CEI scores, as well as 18 on the DiversityInc 25 Noteworthy list. To be considered for DiversityInc's Top 10 Companies for LGBT Employees, a company must have a 100 percent CEI score.
It's important to have the right benefits and anti-discrimination training and policies in place. "While many companies are leading the way, our nation's federal non-discrimination protections are lagging behind," Chad Griffin, President of the HRC Foundation, said in a statement. "Critical cultural shifts need to take place to foster greater inclusion. In this case, our elected leaders should be looking to corporate America for a sterling example of how progress is achieve[d]."
Although much remains to be done, progress has been significant. Ten years ago only 13 companies had a 100 percent CEI store, while last year 366 companies earned the distinction.
DiversityInc Top 50 companies have long been at the forefront of LGBT inclusivity:
| | | |
| --- | --- | --- |
| | Top 50 | U.S. (HRC) |
| LGBT non-discrimination training | 100% | 80% |
| Include gender identity in employment protections | 100% | 66% |
| Offer gender reassignment surgery | 86% | 28% |
Most companies are still offering domestic-partner benefits in most cases to same-gender couples because about 25 states do not have anti-discrimination laws. So if a couple "goes public," they risk discrimination.
Support System
Eighty-two percent of companies (and 100 percent of DiversityInc Top 50 companies) now have LGBT employee-resource groups. According to the Top 50 companies, these groups work best when they include straight allies, including senior leadership.
The groups are critical to on-boarding new employees, creating cultural competence awareness and increasingly helping to develop effective metrics to comfortably assess how many LGBT people are in the workplace. This includes anonymous employee engagement studies. The groups also help explain guidelines and directions, such as gender transitions.
The HRC noted: "Most employees need some direction as to what these policies mean in their workplaces with regard to employee expectations. In addition, diversity training and educational programs are key platforms for the employer to show alignment in their business values around inclusion with broader business objectives such as solidifying diverse market shares, attracting talent and more."