This Meeting in a Box tool is designed for distribution to all employees. You may use portions of it or all of it. Each section is available as a separate PDF; you can forward the entire document or link to it on DiversityInc Best Practices; or you can print it out for employees who do not have Internet access.
For Memorial Day, we are giving you a valuable tool to share with all your employees as you continue their education in cultural competence. We are supplying a Timeline of military battles, legislation and events impacting veterans and their achievements in the United States; Facts & Figures demonstrating veteran demographics; and "Memorial Day: Think Before You Say 'Thank You For Your Service.'" This information should be distributed to your entire workforce and also should be used by your veterans employee resource group both internally and externally as a year-round educational tool. It also can be particularly valuable to your disability, women's and LGBT employee resource groups.
[CLICK HERE to download a PDF of the full Meeting in a Box, our diversity-management training and educational tool available only to Benchmarking customers and DiversityInc Best Practices subscribers.]
We recommend you start your employees' cultural-competence lesson on veterans by using this Timeline, which documents significant military operations, legislation and other historic events impacting veterans in the United States.
Discussion Questions for Employees
Why — or why not — have veterans been valued in this country?
Ask employees what contributions veterans have made to their country and why after certain military operations there was more or less support for them. How does treatment and reputation of veterans impact their role in the workplace?
Why have some barriers, such as women in combat and Don't Ask, Don't Tell, been so hard to end?
How do the military, political and social climates in this country impact issues of civil rights in the armed services? How does this affect veterans and their spouses in the private sector?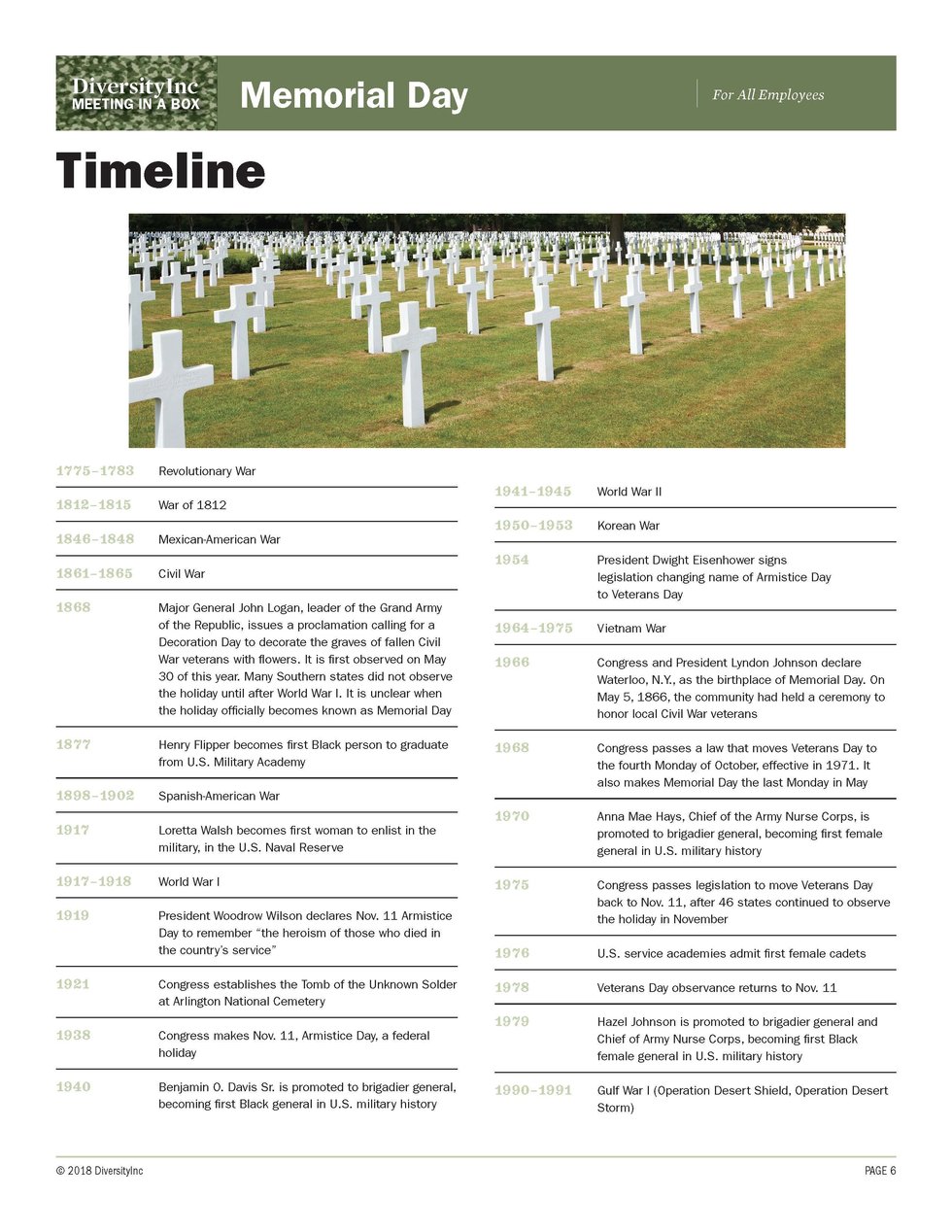 To view/download a PDF of the Timeline click here.

After discussion of the Timeline, the next step is to review available data and understand demographics of veterans (important for diversity recruiters) as well as benefits they bring the workplace, such as education, leadership training and ability to act in crisis.
The data we have chosen to present here represents information of relevance to corporate America, such as racial/ethnic, gender, age, education and business ownership (vital for supplier diversity). We also feature the Top 15 Companies for Veterans and the best practices they employ, such as an employee resource group for veterans, having recruitment efforts aimed at veterans, hiring practices aimed at spouses of veterans and increased philanthropic endeavors and supplier diversity for veterans.
Discussion Questions for Employees
Does your company have an employee resource group for veterans?
If not, how would this group benefit your company in increased hiring, engagement and promotion rates? If so, does the group communicate regularly with other employee resource groups, such as groups for people with disabilities? Is the group tasked with improving recruitment, retention and leadership development, as well as community outreach?
Increasingly, veterans' employee resource groups are being used to also help with onboarding and ensure that veterans acclimate to corporate cultures. It's also vital to have their managers and other employees understand veterans to ensure a successful transition to corporate life.
Does your company have a supplier diversity program aimed at veterans and/or veterans with disabilities?
Veteran-owned businesses are a valuable part of your procurement chain and can bring important skills and criteria to your organization. Similarly, vendors owned by people with disabilities and especially veterans with disabilities are increasingly included (and targeted) as vital pieces of the procurement budget.
Does your company publicly support veterans?
Strong support from CEOs, such as Johnson & Johnson's Alex Gorsky and Prudential Financial's John Strangfeld, cements a company's reputation as a supporter for veterans (Prudential Financial is No. 18 on the 2018 Top 18 Companies for Veterans list). This helps with recruitment, engagement, leadership development and procurement.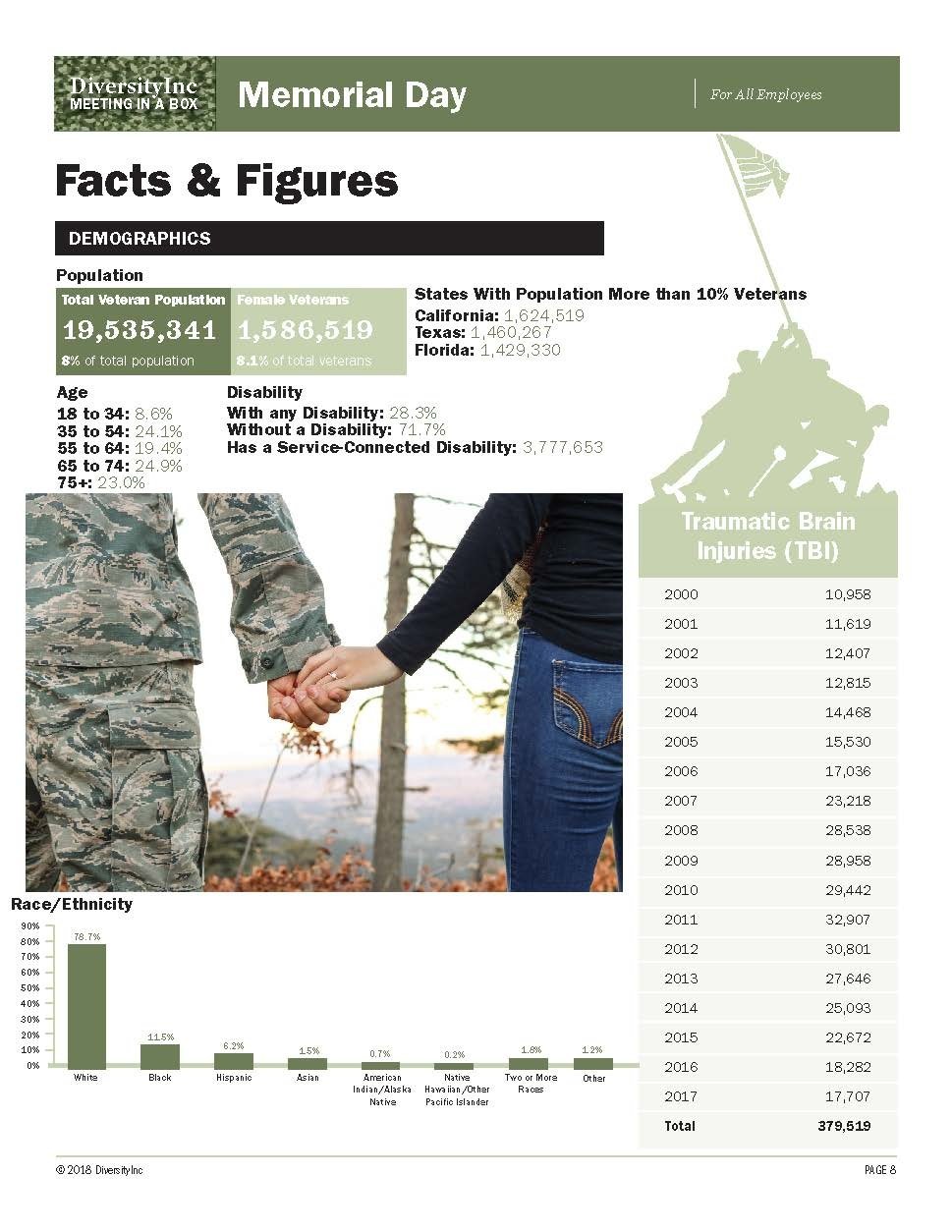 To view/download a PDF of Facts & Figures click here.
Memorial Day tends to be viewed as either another instance of Veterans Day or the unofficial start of summer. But it is not in fact the day to thank a veteran for his or her service. Two veterans spoke with DiversityInc to explain what Memorial Day really is.
Discussion Questions for Employees
Why might Memorial Day be more difficult for some veterans than others?
No two servicemembers' experiences are the same. Discuss why some veterans may be more strongly affected by past experiences on Memorial Day than others.
If you can't say thank you to a living veteran, what can you do to give thanks on Memorial Day?
Connect with your veterans resource group to find out about any volunteer or tribute opportunities you can participate in around this time, such as visiting a veterans cemetery.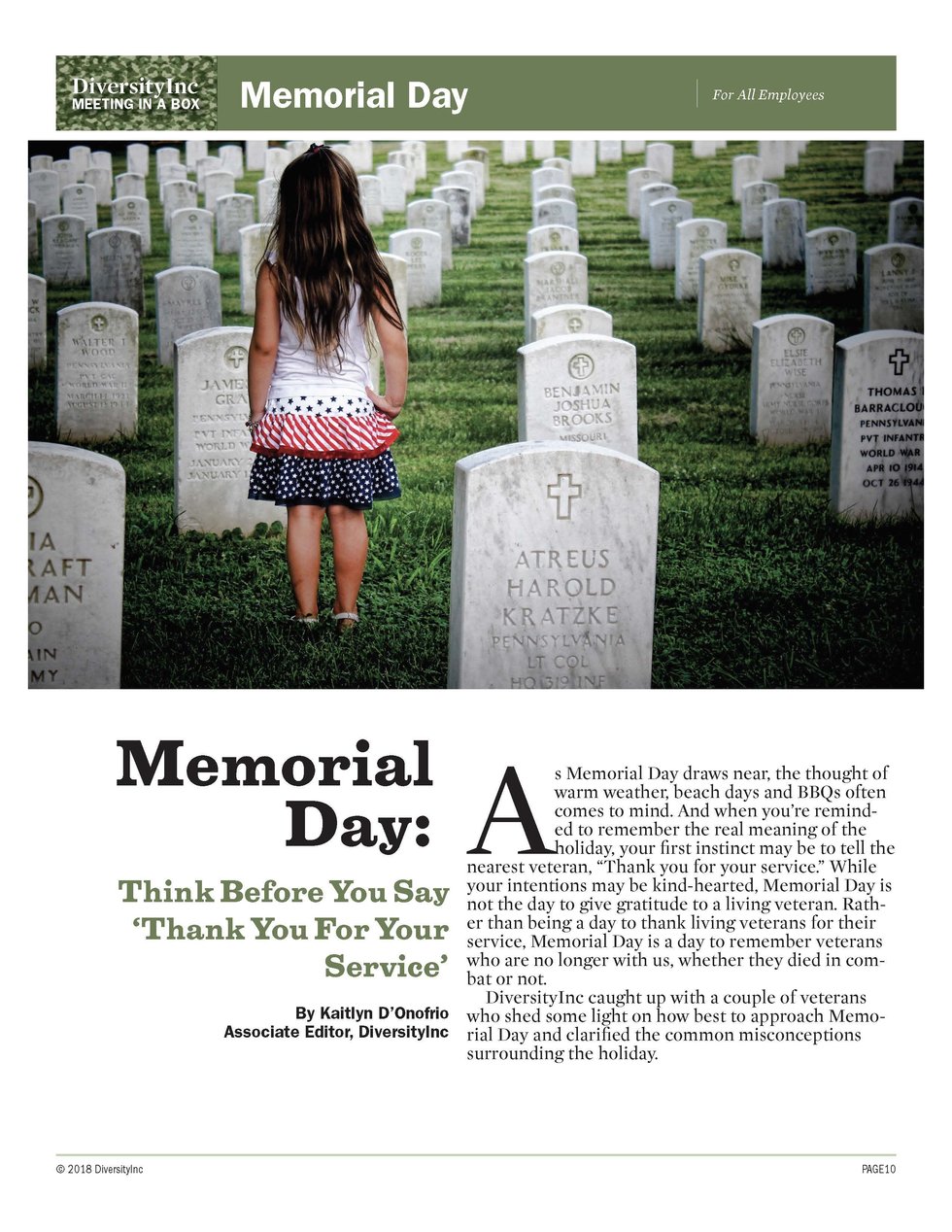 To view/download a PDF of the article click here.
Additional Resources: Career Advice on Veterans
PwC's Chris Crace Gives Advice on Overcoming Roadblocks, Getting Back on Track and Not Being Afraid to Fail
PwC's Veteran's Advocacy Leader Chris Crace gives career advice on overcoming roadblocks, getting back on track and not being afraid to fail.
Comcast Veterans Give Advice on Balancing Military and Civilian Careers
Veterans now working for Comcast give advice on transitioning, balancing your military life with the civilian world and more.
Wells Fargo Veterans Give Advice on Transitioning From Military to Civilian Work
Military veterans at Wells Fargo give career advice on transitioning to corporate life, including adapting your leadership and communications style.
Accenture's Tauni Crefeld on Challenges Veterans Face When Transitioning
After leaving the Air Force, Tauni joined Accenture as an analyst — at new joiner level — and 19 years later is a Managing Director in the company's Communications, Media and Technology Consulting practice, leading large complex delivery projects for clients.
EY Manager: To Emerge Stronger Professionally, Veterans Should Employ the Same Resilience Learned While Serving
Ben Bing is a Manager in EY's Advisory services practice and based in the firm's New York City office. Prior to joining EY, he was an Officer in the United States Navy, where he spent 11 years as a Naval Aviator and staff officer.
TIAA's Veteran Focus
Veterans are an important part of TIAA's employee-base and mentorship is crucial to making a transition back to the workforce successful.
Principal at EY: Military Experiences Taught Me I Am The Master of My Own Limitations
Jennifer Kamrowski, Principal in EY's Advisory services practice, talks about her military service and how it set her up for success at EY.