This Meeting in a Box tool is designed for distribution to all employees. You may use portions of it or all of it. Each section is available as a separate PDF; you can forward the entire document or link to it on DiversityInc Best Practices; or you can print it out for employees who do not have Internet access.
The significance of Women's History Month cannot be overstated in today's climate. As women continue making strides in the business and political spheres, they are also calling for drastic social change. Topics including harassment in the workplace have been brought to the forefront in a movement that has only just begun.
As women become more vocal about such issues, though, it is critical to remember not only how far women have come to reach this point but to remember that there is still a ways to go. In this Meeting in a Box we are providing you with a Timeline, showcasing history as well as current events surrounding progress for women's rights; Facts & Figures illustrating that gaps do in fact remain; Career Advice from Women Executives have overcome obstacles in their own professional journeys; and Leadership Profiles telling stories of where women started and how their unique paths have shaped their careers.
This Meeting in a Box is designed to be of use for all of your employees. It is beneficial not only during Women's History Month but can serve as an educational tool all year round, particularly for your women's Resource Groups. You may use all of the Meeting in a Box or select portions of it to download.
[CLICK HERE to download a PDF of the full Meeting in a Box, our diversity-management training and educational tool available only to Benchmarking customers and DiversityInc Best Practices subscribers.]
1. TIMELINE
We recommend beginning with this Timeline, which starts in 1789 and highlights events all the way up until this year. To fully grasp how far women have come since our country's founding, it is helpful to understand the point where they started out. Here, employees can journey throughout the last few centuries as they learn how women paved the way so many years ago for today's generation to continue making progress.

Discussion Questions for Employees
What have been the most significant changes in women's roles in the past 50 years? in the past 10 years?
Ask the employees why they think there has been so much rapid change and, most importantly, if it's enough. Have women talk about their own experiences and men talk about the experiences of their wives, daughters, sisters and friends.

Why are "firsts" important to note? What other barrier breakers have you witnessed in your lifetime?
This is a personal discussion designed to help the employees note other barrier breakers historically.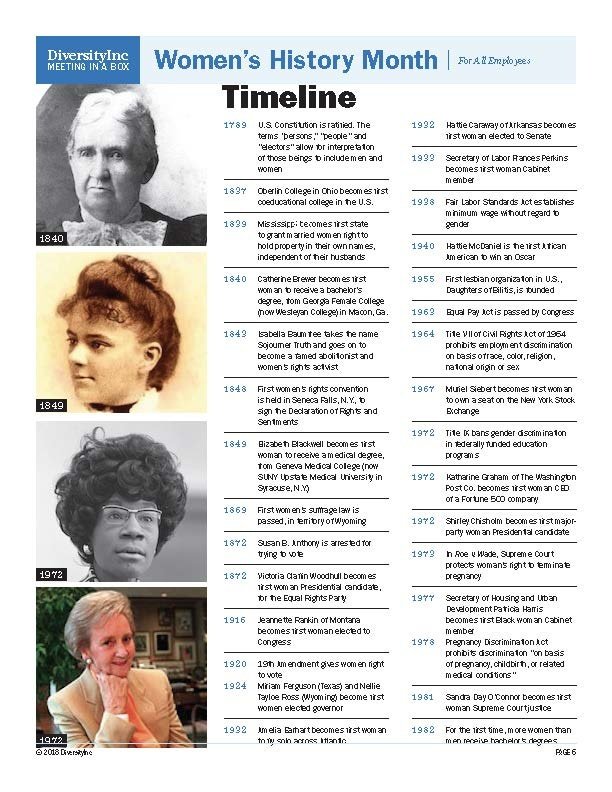 CLICK ON IMAGE TO DOWNLOAD
2. FACTS & FIGURES
Once history has been discussed and established, we suggest moving on to the Facts & Figures. This section gives insight into population, business, educational attainment and finance in terms of how it pertains to women — and, where applicable, provides comparisons between men and women. Also included is how women are climbing the corporate ladder in the DiversityInc Top 10 Companies as opposed to the national average and Fortune 500.

Discussion Questions for Employees
Why has it been so difficult to get girls and women into STEM (Science, Technology, Engineering and Mathematics) positions, and what should schools and companies do to change that?

To learn how some companies are convincing students to pursue a STEM career, go to https://www.diversityincbestpractices.com/why-stem-majors-opt-out-of-stem-careers-2505491097.html.

How can you get more women in your company interested in operational roles versus traditional support/staff roles?
Brainstorm strategies that may help demonstrate to the women in your company that they too can be in top positions.

How can high potential women bolster their career paths?
To hear career advice from high potential women check out our webinar with Wanda Hope, Chief Diversity Officer, Johnson & Johnson (No. 5 on the DiversityInc 2018 Top 50 Companies for Diversity list); Caryn Parlavecchio, Head of HR and US Country Head HR, Novartis Pharmaceuticals Corporation; and Marisa Milton, Vice President, Global Talent Acquisition & Employer Brand + Communications, Marriott International (No. 8): https://www.diversityincbestpractices.com/career-advice-high-potential-women-2505497089.html.

Do women get the same support as men in your company?
Have an honest discussion on whether or not women in your company feel as comfortable as men when it comes to asking for help. For more information, go to https://www.diversityincbestpractices.com/career-advice-to-women-ask-for-what-you-need-2505495855.html.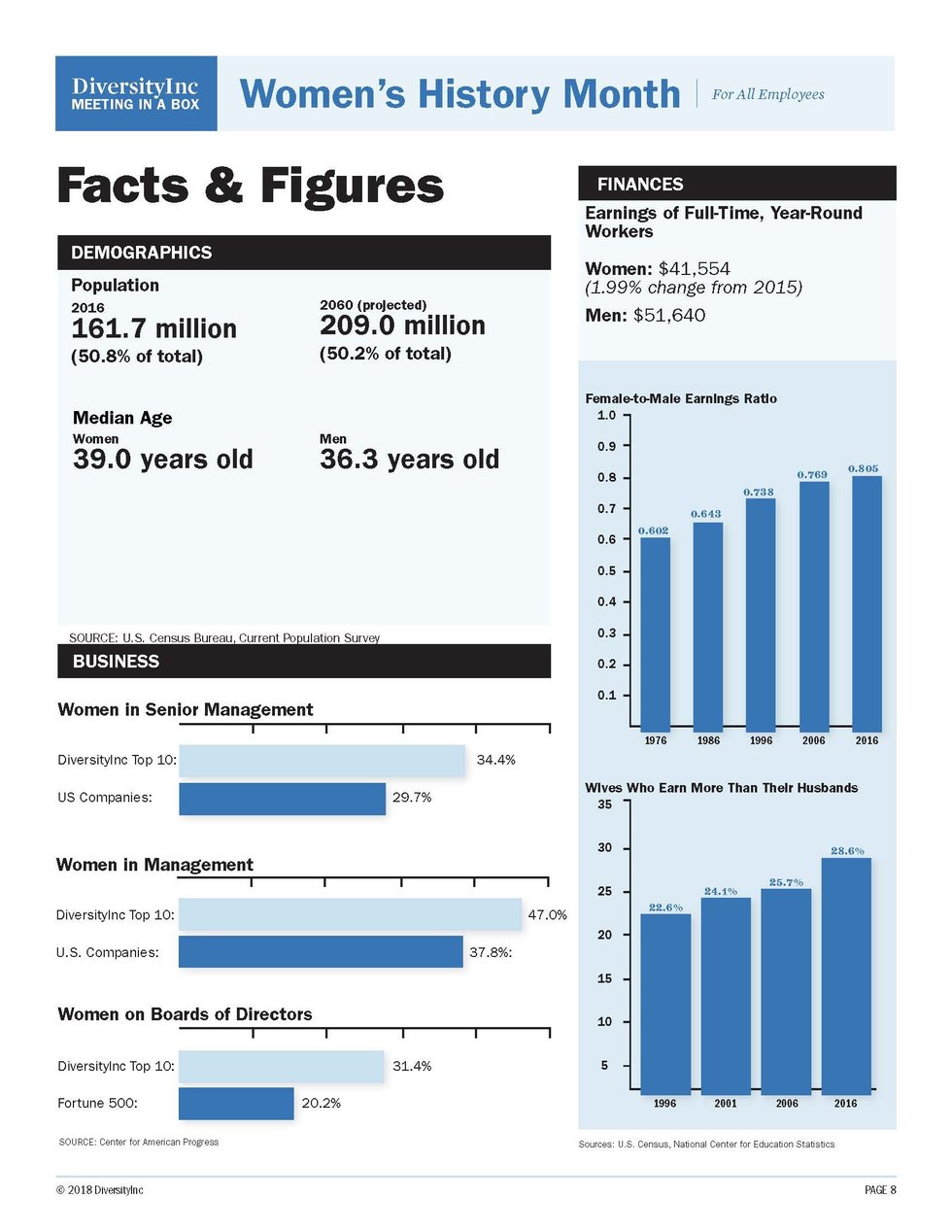 CLICK ON IMAGE TO DOWNLOAD
3. CAREER ADVICE FROM EXECUTIVE WOMEN
Next we are highlighting career advice from executive women who work for some of the DiversityInc Top 50 Companies for Diversity list. Click the links below for tips and best practices on how they maintained and developed a successful career.
4. LEADERSHIP PROFILES
The final component is these leadership profiles. Read below to learn the stories of how executive women got their starts and what different things — from serving your community to taking charge of your own professional journey — impacted their careers the most.
[CLICK HERE to download a PDF of the full Meeting in a Box, our diversity-management training and educational tool available only to Benchmarking customers and DiversityInc Best Practices subscribers.]