10 Tips for building a successful "machine" for recruiting and advancing people with disabilities.
By Eve Tahmincioglu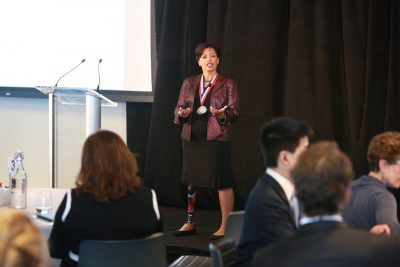 Bonnie St. John at PwC event
Photo Credit: Robert Tannenbaum
"Disability is the greatest equal opportunity group; anyone can join, at any time in your life."
This quote came from Bonnie St. John, an Olympic medalist who had her leg amputated at age five and a speaker at PwC's disability inclusion in the workplace gathering earlier this week. (PricewaterhouseCoopers is No. 5 on the 2016 DiversityInc Top 50 Companies for Diversity list.)
The event, titled "The Inclusion Project: Ability Reveals Itself," brought together diversity and inclusion leaders from a broad range of companies who came to hear about how to improve their efforts recruiting, retaining and advancing people with disabilities.
Many in attendance agreed that D&I efforts regarding those with disabilities often lag behind initiatives for women and minorities. However, the main takeaway from the event was that a lack of focus on this group means organizations are missing out on top talent.
PwC has seen its efforts in this area bolster its talent hunt.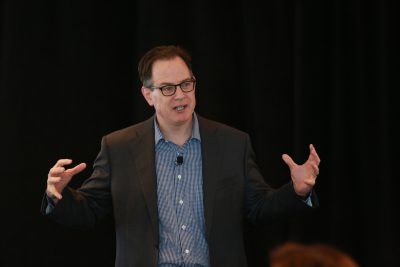 Mike Fenlon
Photo Credit: Robert Tannenbaum
First driven by regulatory and compliance requirements, the firm formed an advisory council a few years ago, Mike Fenlon, PwC's chief people officer, explained. "Over the years, though, it's transformed. And I would say at the heart of it today, it's really a talent story."
It's a large talent pool, according to a host of data shared at the event:
People with disabilities represent the largest untapped workforce in the world: 15 percent of the world's population has a disability (over 1 billion people).

In the United States, 1 in 5 people identify with having a disability. These 54 million people make up the largest diverse group in the U.S., surpassing Hispanics, African Americans and Asian Americans, as well as Generation X and teens.
Given all of this information, the focus of #PwCAbility was to boost awareness of the role blind spots can play when it comes to people with disabilities. This plays out, Fenlon noted, "not just in ourselves personally but in our firms, in our organizations."
Here are the top 10 best practices from the event speakers so you can take on the challenge:
Don't compartmentalize people with disabilities.
Whether it's an employee resource group meeting for Black, LGBT or veteran employees, there can be people with disabilities in those different groups — and disability means different things to different people, maintained St. John.
"People of color, we have health disparities that give us a different relationship with disability. Often our caregiver networks are not there as much as we'd like," she said.
As leaders, she continued, we have to think about "how are we leading people through these intersections? Are we getting champions in each of the different areas?"
Recognize the skills potential.
It's all about resiliency, said St. John. "When you walk into a world or roll into a world that isn't designed for you, for the way everything is the way you need it," she explained, "you have to be more creative, you have to have more perseverance, you have to be innovative and self‑starting, take initiative. We're talking about accessing a pool of people that have exactly the kind of skill we need the most."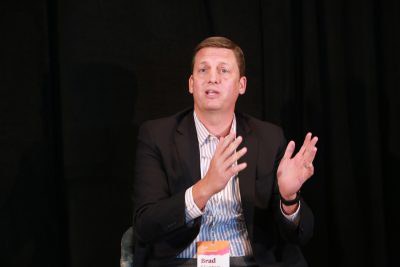 Brad Hopton
Photo: Robert Tannenbaum
Brad Hopton, a PwC tax partner who champions the firm's ERGs around disability inclusion, saw this group as "creative problem solvers," and the goal became convincing leadership that it was imperative to tap this group of constituents to solve problems at PwC.
"Our mission statement is, all around, solving important complex problems for our clients and society," he said. The firm's leaders "quickly got on board" with this message, Hopton said.
Be ready to recruit but also to retain.
Pay attention to organizational readiness, advised Nadine Vogel, CEO, Springboard Consulting, who moderated the panel.
"If you go out tomorrow and start recruiting and you don't have an accommodations process in place, or your website for recruiting people is not accessible to folks who are blind or have some other disability it's going to fall apart," she said. "So the journey is also understanding the steps that you have to take, and the order in which you have to take them. That's really, really important."
And all the panelists agreed getting the word out about what an organization's inclusiveness using the tools of the day, including social media, is key. Indeed, PwC made a concerted effort to get attendees at the event to share the discussion on social via #PwCAbility, and included a dedicated screen for tweets in real time during the day.
PwC started out with a small group, primarily of parents with children with disabilities that shared their experiences and articles, and it blossomed from there.
"All of a sudden Atlanta called us and said, 'Can we participate?'" recalled Hopton. "And then Chicago and San Francisco came on board. It began to grow. But very grassroots, very organically."
Make a concerted talent effort.
Once the organizational readiness was in place, PwC turned its attention to tapping the disability talent pool.
The firm formed a strategy council, essentially a steering committee with a group of leaders within PwC geared towards setting forth that strategy. "We branched into two ERGs, disability inclusion ERGs," Hopton said, "and we got really, really focused in on talent, and getting access to the talent on campus, and getting access to that talent through our experience recruiting champs."
The steering committee is made up of Hopton, Fenlon, PwC's Chief Diversity Officer Maria Castañón Moats and other leaders.
Don't reinvent the recruiting wheel.
Employers should look at where they get their talent today, suggested Susan Lang, president and CEO of Lime Connect Inc.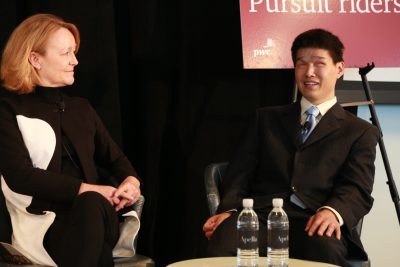 Susan Lang and Jack Chen
Photo Credit: Robert Tannenbaum
"Do you get it from certain schools? Do you get it from certain places?" she asked. "Focus your efforts there. And craft your message around disability; build your brand. Make sure that people who are — let's say people today are Googling and following PwC on Twitter, look at what they're seeing."
And be more targeted. PwC has 175 priority schools the firm targets for recruiting but decided to focus on only 30 to discuss disability inclusion so it was more manageable, Hopton said.
"We went to those schools and explained what we're doing, talked to the career placement office," he explained.
"The onboarding experience and getting is absolutely critical," Hopton stressed. "How do you start them off on the right experience, the right user experience from day one? We do at PwC a lot of awareness training. That awareness training is for people with disabilities but then also for the teams."
And Lang added you must "make it very clear if someone has an accommodation need that there's a specific person to go to, and you want to help them find whatever it is they need to be successful."
Encourage self-identification.
Hopton said his team pushed very hard to get demographic questions added to PwC's annual employee survey. "We've used that survey as a means to again open up the dialogue," he said.
The firm also works with an external organization, teaming up with an organization that provides candidates who have self‑identified, including a number of interns who self identified. "We trained them about PwC. We train their teams about their particular area, being more inclusive. It really is a recipe for success."
Employees can lead the way.
Jack Chen, product counsel at Google Inc., who is visually impaired and was also a panelist at the event, said he collaborated with close friends at Google who also had disabilities and took their message to the top.
"We took our message that we wanted to make Google the best place for people to work with disabilities to the very top," he explained. "We shared our vision and shared some very concrete ways that we felt we're missing the bar. Got them on board, got them fired up."
Maintain community outreach.
Beyond implementing awareness campaigns, mentoring programs, etc., "the most meaningful component of the disability journey has been supporting the volunteer and charitable efforts," said Jon Defeo, a PwC tax partner in New York.
To that end, PwC sponsors Pursuit Ride, a 3,500-mile cross-country bike ride to raise money for The Center in Houston, which provides groundbreaking programs for people with disabilities, he said.
Related Content:
DiversityInc's Top 9 Companies for People with Disabilities list. See why these employers are the best of the best when it comes to recruiting and advancing this group.
Upcoming Webinar featuring PwC's Brad Hopton titled Retention and Advancement of People with DisabilitiesDisability is the greatest equal opportunity group; anyone can join, at any time in your life.