This website uses cookies to ensure you get the best experience while browsing it. By clicking 'Got It' you're accepting these terms.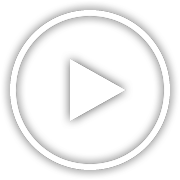 Video By Alana Winns and Christian Carew
Abbott's Corlis Murray, Senior Vice President, Quality Assurance, Regulatory and Engineering Services, talks about her inspirations for getting into engineering and her work in encouraging young women and minorities to get involved in STEM.
Corlis Murray is Senior Vice President, Quality Assurance, Regulatory and Engineering Services. She was appointed to her current position in February 2012. Previously, she served as Vice President, Global Engineering Services. Murray joined Abbott in 1989 and has held a number of management positions in quality, operations and engineering in Abbott's diagnostics and nutrition businesses. In Abbott Nutrition, she served as divisional vice president, Quality Assurance; divisional vice president, Manufacturing; and divisional vice president, Operations Services.
She is a board member of The Clara Abbott Foundation. She earned a bachelor's degree in mechanical engineering from Southern University in Baton Rouge, Louisiana.
DiversityInc: During the 70s and 80s, the percentage of engineering bachelor's degrees conferred to women never reached 15 percent. What inspired you to major in engineering?
Murray: This doesn't surprise me at all. Even today, as a Black female engineer, I'm a rarity — more than 10 times as rare as a woman in Congress. My mother and grandfather instilled in me a love for learning, especially of math. I had a knack for math and science and was nominated by one of my teachers in high school for an internship with IBM. Quitting my $1.76-an-hour job at Jack in the Box to pursue that internship is one of the defining moments of my life. Because that high school engineering internship — and the African American man who mentored me, showing me how to troubleshoot issues with mainframe systems (essentially the brains of room-sized computers) — demonstrated to me that I, too, could be an engineer if I wanted to.
The percentage of women receiving engineering degrees today is better, but not significantly better. In 2014, only 19.8 percent of bachelor's degrees in engineering went to women, according to the National Science Foundation. That's why I've brought my experience full circle, founding the high school STEM internship at Abbott six years ago.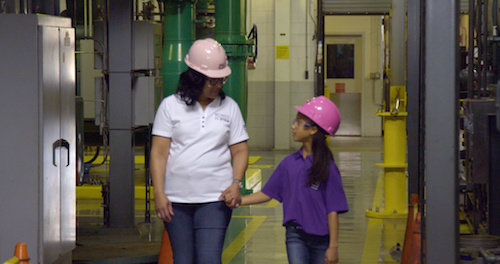 Corlis with her 7-year-old granddaughter, Arianna
DiversityInc: It's very important for young Blacks, Latinos and women to see people like them in the STEM field. Can you talk about the high school STEM program you initiated at Abbott? What are the long-term impacts of the program? What does that say about Abbott's commitment to diversity and inclusion?

Murray: A high school engineering internship changed the trajectory of my life. I very much believe in an "each one, reach one" philosophy — which means I have no choice other than to give back to young people, especially young women minorities, like myself. There are young people in school today who might have no idea what engineering is, no idea what fun math or science can be — young people who, through a single positive experience, could be impacted for a lifetime.
Our high school STEM internship program demystifies engineering and science for these young people and makes it a real, viable career option. These minds will invent the next breakthroughs in life-changing technologies.
The program is made up for almost 60 percent women and about half of them are minorities. Nearly all of them (97 percent) go on to pursue a STEM degree or career. Many of our students started at inner city schools and now, after our internship program, are attending the top engineering and science schools in the country: U of I, MIT, Purdue, USC, Rice. Many are the first in their family to go to college.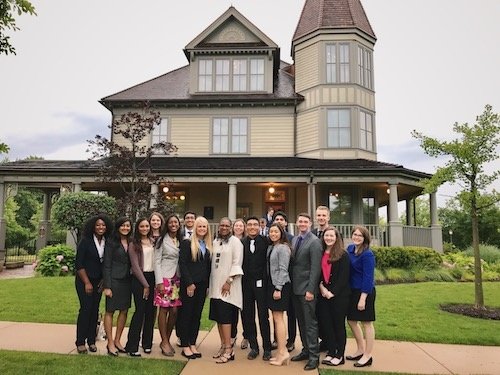 Corlis with former high school interns who were college interns in summer 2017
My sincere hope is that more companies do what Abbott is doing, investing in young people by providing robust high school STEM internship programs — as well as other STEM programs. Abbott has invested over $50 million over the last decade with the goal of helping to inspire and support tomorrow's inventors who will create the world's next life-changing technologies. It's such a benefit, both to these young people, and to our company, as we develop a top-notch pipeline of people who know the value Abbott brings to people's lives — and are excited to join a culture of innovation where they know their ideas could someday be on the shelf, in a doctor's hand — or in a patient's heart.
This extra support for young women and minorities in STEM can help start a positive cycle. It's amazing that still today less than 4 percent of engineering degrees go to African Americans, according to the National Science Foundation, and only 1 in every 7 engineers is a woman according to the Department of Commerce. These young people need to see others who look like them to signal that they, too, can be successful.
DiversityInc: You've held a number of management positions at Abbott. What advice would you give to others on how to navigate a successful career at the company they are currently at?
Murray: The reason I reach out to students as young as 15 for our high school internship program is because the more we can open their eyes to potential STEM dreams young, the more they can explore and pursue during formative years.
Regardless of our age, race or gender, we make our own odds. Be aware of your strengths and weaknesses; study hard; make connections with people who can teach you and advocate for you; and ultimately, sell yourself by demonstrating your aptitude in a creative way and knowing the business or organization you're working in or pursuing inside and out.
DiversityInc: What are some attributes you look for in high potential women?
Murray: The attributes I look for in high potential people — women and men — are the same. The organization that I have responsibility for is diverse, functionally and organizationally. I look for someone who is:
A quick-study
Knowledgeable about finance and business
Highly committed, focused and with leadership qualities
Well-spoken and a good writer/communicator
Passionate, with a proven track record of developing others
Detailed-oriented with an ability to see the big picture
A change agent
A global thinker
Actively engaged in a team environment
Knowledgeable technically in her area of expertise
Abbott's Hubert Allen reflects on the values his parents instilled in him, how he built one of the most diverse teams at the company and its commitment to reaching young students.
Hubert Allen's parents immigrated to the U.S. from a very small island in the West Indies; he was the first of his family born in the U.S.
After attending public schools in Boston, he attended college at Wesleyan University in Connecticut and eventually law school at Yale.
Allen started his career at law firms, first in New York and then in California. After a stint at McKesson Corporation, Allen made his way to Abbott. Today he serves as the company's general counsel, a role he assumed when Abbott separated from its proprietary pharma business, AbbVie, in 2013.
Shane Nelson: Your parents are your first true teachers. How important was education to them?
Hubert Allen: Education to them was extremely important because they saw it as a way for us to grow up and have a very different life than they had. Being born in the '30s in the West Indies, they were born into a very different world than the world we occupy today.
But they had a vision for what they wanted our lives to look like and a big part of that was education. They did not attend college but they were very focused on us being educated. They had a sense of how they believed the world worked. They taught us about outlook and character. They were very big on integrity.
They were very big on the idea that you should say what you're going to do and do what you say. They were very big on the idea that you always do the right thing in any situation. They instilled an innate sense of curiosity in me and my siblings.
They also taught us perseverance, that life is not always going to be great and it will often kick you in the teeth. But the real question is: what are you going to do about it? How do you stay in the game and how do you keep moving along?
They taught us a sense of embracing challenge. They believed you should always challenge yourself, through education and through your work. Challenge yourself to always be better than you were at a given moment in time. They thought that growth was an important part of life.
When you think about it and you think about being an immigrant, all of this makes sense. It was a tremendous thing for my parents to pick themselves up from someplace where they were pretty comfortable, and move to this world that they knew nothing about. They did it because they thought we would have a better life.
But it was a major undertaking. When you do that, you have to have a sense of optimism about the world. You have to have a sense that your place in the world matters and that there are things that you can control and if you control the things that you can control, good things will come your way.
Shane Nelson: Great! I want to jump right into your diversity efforts. After the split with AbbVie, you had to build a new team and you were able to build it into one of the most diverse teams at Abbott. How were you able to do that?
Hubert Allen: There are a couple of things that worked for us.
One is Abbott's reputation. Abbott is a company that is committed to diversity and that commitment is very visible. That is very helpful for us when building a more diverse team.
The second thing is we knew that in order to achieve diversity in our teams, we had to start with our pipeline – who is applying for, and being considered for, Abbott jobs. We were, and still are, very clear that we expect a diverse set of candidates to consider. We also focused on diversity at the law firms we use. Specifically, we focused on having them use a diverse team to present to us for every engagement. It's not always going to be the partner leading the matter; there tended to be a fair number of diverse people working on any issue. With the associates, and with people who are on the team, we just created an expectation for them that when they put together a team for us, it must be diverse.
That's important because often for in-house jobs, you tend to hire people that you've worked with. A lot of our people, the people who come to us, are people who were associates at the law firms we interact with. They know us, we know them, and when there is an opening, they put up their hands to say, "Hey, I'm interested in that." So, if you want to build a diverse team, you have to work on making sure that, that interaction is also one that then reflects diversity.
The next thing we did is we started building connections. We built connections within the legal community where we could tell our story as an employer and as an in-house department. A lot of folks coming out of law school think about their career choices, I know I did, in three buckets. You could be a private lawyer at a law firm, you can be a government lawyer or you could become an academic. But there are other options.
For a lot of people, myself included, working as a lawyer for a company like Abbott might actually be the best option because it might marry your interest with opportunity in a sense that it requires a different skill set than you would use working for a law firm. It allows you to do things that you wouldn't do if you were at a law firm.
We have a pretty large team in terms of geographic spread and we interact with legal systems in more than 100 countries across the globe. Doing that type of work has been very fulfilling for me.
Getting that story out there in terms of being present in events that the law firms have for their summer associates is important to us. We do some work with organizations that are committed to diversity in higher education and it's important to us to get that story out there through those organizations.
We do some other work with social organizations. One of the things we've also had some success with is engaging in community service projects. One of the expectations for all of us here is that we're going to spend a certain amount of our time doing community service and a certain amount of our time doing pro bono work. It's a way of giving back and also a way where we get to connect with each other.
One of the things we do when doing that work is we make a point of inviting associates from our other law firms that we work with to join us. As we do that, we particularly focus on making sure that the people who join us reflect the diversity of the profession. It gives us an opportunity to interact with associates in a different way than you might at a party because you're doing work. In doing the work, it brings out a different part of you.
It's one thing to kind of stand around and have a conversation at work, but it's a different thing to have conversation while you're moving boxes or while you're trying to accomplish a task. We found that very helpful in terms of connecting with people and getting our story out there and having folks get to know us.
Shane Nelson: Abbott does a lot to reach students early and get them interested in the industry. What are you doing to reach students early and get them interested in the legal profession?
Hubert Allen: I think this is a very important part of what we do. It's a commitment to help build our own organization and a commitment to the profession in general. One of the things I often say, and I mean this, is that it's incredible for me at this age to have this job that I never knew existed when I was in college, and I never knew existed even when I was in law school. As a profession, we need to get to students early on and show them that there are a lot of places depending on your interests and depending on your personality. As a profession, we perhaps are not good at that early on enough. What ends up happening is people go to law school with their vision in their mind, which is the usual courtroom law firm vision, and people for whom that isn't attractive, they don't end up in the profession at all. That's a problem.
I was involved with an organization when I was in college called Sponsors for Education Opportunity. They placed students in investment banking firms. That was an important experience for me in two ways. It showed me that there was this world of investment banking that I didn't know existed. That was very important. The second important thing was it showed me there were people like me in that profession.
With that in mind, we focus a lot on trying to interact with groups that do the same type of work. One of the groups we interact with here in Chicago is called Just the Beginning Foundation. They take students as early as middle school and try to get them to think about their life after high school, their life after college and what their careers would be.
We work with them and with other organizations like them to have their students come to Abbott Park to spend the day and learn what our lawyers do. We support them in their moot court efforts. We've done Q&A's with middle school students through that organization. We get ourselves out there to show that this is a viable part of the legal profession and to show them that there are people like them who actually occupy positions of responsibility.
Shane Nelson: I'd like to turn to career advice. What advice would you give to someone on developing and maintaining a successful career?
Hubert Allen: I would give them the same advice my parents gave me. A successful career is ultimately built up on the three things: curiosity, perseverance and always challenging yourself.
The world will always shift. If you can remain curious about things so that you're always learning, if you can always challenge yourself and if you can persevere through hard times, you're going to be in a pretty good place in terms of having a fulfilling career.
As part of your curiosity, seek out the advice of people who have been down the road before. Mentorship and connections with people who are older than you and who know different things than you are very important part. At the end of the day, each of us are responsible for our lives and our careers, but there are a lot of people in the world who can and will help you fulfill that responsibility to yourself. You have to go through the work of seeking out those people.
And the last thing I'd say, as counterintuitive as it is, is advice that I have heard over a number of years from my father. You've always got to remember it's just work. It's part of your life, but it's not your whole life and you have to round out your life in every way that you can. You must have interests outside of work because ultimately those interests and things outside of work, a bigger life, will make you a better person and help you do a better job at work and also to persevere through the down times.
Shane Nelson: What type of engagement do you look for in the people you sponsor?
Hubert Allen: Integrity is key to me. For the people I sponsor, I expect integrity and accountability in everything they do. I like people who are broad thinkers and in order to be a broad thinker, you need curiosity and you need to always challenge yourself. You need to think of yourself not in the context of what you are today but what it is you hope to become.
Comcast's Fred Maahs talks access to the boardroom.

By Frank Kineavy
Fred Maahs started his corporate career 36 years ago while working his way through college – just two years after a diving accident left him partially paralyzed.

Sabina Zaman, EY Partner, discusses the perspectives growing up around the world gave her, the female role models in her life and how to be a good mentor and mentee.
Sabina Zaman is a partner in EY's Financial Accounting and Advisory Services practice ("FAAS") based in New York. She leads the Wealth and Asset Management sector

Sabina has more than 20 years of consulting experience serving multinational clients in the asset management, banking and insurance sectors. Her diverse experiences as an auditor, subject matter advisor (IFRS/US GAAP/SEC), capital markets deal advisor and management consultant, enable her to bridge technical accounting/financial reporting advice with an understanding of operations.
Sabina is a CPA, licensed in New York, and is a member of the American Institute of Certified Public Accountants (AICPA). She holds an MA in Economics (Carleton University, Canada) MS in Accountancy (University of Urbana) and MBA (University of Manchester, UK), International Affairs Diploma (University of Stockholm, Sweden)
Sabina's early childhood years was spent growing up in many countries all over the world: Senegal, Sweden, Australia, Canada and the Philippines. In her spare time, she loves to travel, play tennis and enjoy all the cultural experiences NYC has to offer.
Ali Master, Senior Partner at EY, talks about the work of the firm's Inclusiveness Advisory Council and gives advice on how protégés can successfully manage the sponsor-protégé relationship.
Ali Master is a senior partner in EY's National Tax Department and is based in the Dallas office. He leads EY's Workforce Advisory Services including the Affordable Care Act, Employment Tax Advisory, and Hiring Tax Credits.He has been with EY for 23 years and has been a partner for almost 15 years.Ali has extensive experience designing and delivering managed tax services to national employers.He is supported by a cross-functional team with over 300 professionals.
Ali is member of EY's Americas Inclusiveness Advisory Council and also co-chairs the firm's Asian Partner Work Group—a partner group committed to advancing equity for EY's Asian professionals.
Ali holds a bachelor's degree in accounting from the University of Texas at Dallas. He is a board-certified CPA and also holds a CCIP (Certified Credits & Incentives Professional) designation through the Institute for Professionals in Taxation.
DI: Why is diversity and inclusion important to you?
Master: I have personally experienced the powerful impact of diversity & inclusion (D&I) on my own career by having inclusive leaders, mentors, and sponsors who believed enough in D&I to allow me opportunities that otherwise would not have been possible.To elaborate further, I had a somewhat non-traditional start to my career.Prior to joining EY as 2nd year staff, I had already worked for several years for a boutique firm that specialized in certain niche tax services.Having an entrepreneurial bent, I wanted to start a similar new business at EY. It took serious sponsorship, inclusion, and belief on the part of several key EY partners that availed me the freedom to start building a new practice at EY even as a young senior.They saw "different" and embraced it.The mentoring and coaching I received along the way completely changed the trajectory of my career. It also resulted in tremendous dividends for the firm proving the business case for diversity and inclusion.
DI: You are a member of EY's Americas Inclusiveness Advisory Council. From your lens, how important is an executive diversity council to driving a company's D&I strategy and holding senior leaders accountable for results?
Master: I believe such a council is vital and I am so glad that the firm has continued to make this investment.Having the executive diversity council has a multipronged impact in cascading the importance of this business imperative.First, it allows for an open and candid dialogue with leadership about our results and the gaps that may exist.It also provides senior leadership an opportunity to 'get out of the board room' and listen to a wide range of perspectives.Second, since many of the IAC members are in key leadership roles across the firm, it helps further engender accountability for each of us to serve as micro-cultures and impact our own sphere of leaders who may not yet be as informed about the significance of diversity and inclusion in terms of being a major catalyst for innovation, attraction and retention of talent, and winning.
DI: Can you cite an instance in which being an inclusive leader made a difference and delivered better results or an innovative solution?
Master: Over the years, I have had the privilege of leading many diverse teams and initiatives.Even today, over 70% of my executive team is comprised of either women, minorities, or members of the LGBT community.Nothing surpasses however what I experienced in terms of innovative solutions being developed by a highly diverse team than our Affordable Care Act (ACA) technology and services.In 2014-2015, we pulled together a global team of over 200 EY professionals to design, develop, and deliver a solution to serve over 275 national employers comply with the complex requirements of the ACA.We had a diversity of background—tax, HR, benefits, technology.A diversity of race, gender, age and heritage—Black, Caucasian, Chinese Indians, Latino, Nepalese, and Pakistanis.And a diversity of personalities—visionaries, drivers, analyticals, and more.The results were terrific! Our ACA COMPASSSM technology received the 2015 Gold Level Stevie® Award for Technical Innovation of the Year.It was one of those experiences where you sit back and watch in awe at what this amazing tapestry of professionals collectively produced.I can't imagine a homogenous team ever achieving such results.
DI: Do you sponsor anyone at EY? If so, what are some good attributes of both the sponsor and protégé?
Master: Yes, I am presently a sponsor to several individuals.Additionally, during the course of my fifteen years as a partner, I have had the opportunity to sponsor many others.I definitely feel that both the sponsor and the protégé have a role to play.Let's start with the sponsor, who must be willing to advocate for their protégé at the right venues and to key decision makers that can influence the career trajectory of their protégé. Furthermore, a good sponsor must stay abreast of what others in leadership think of their protégé and whether there are any real or perceived gaps in skillset, business-case etc. that they need to convey to their protégé and/or advocate for assignments that can bridge those gaps.Finally, a key attribute for the sponsor is to be honest and realistic with their protégé in terms of what they must do to achieve their career milestones. And then, help coach them through that journey. In my view, however, the primary responsibility to get the maximum out of the sponsor-protégé relationship falls on the protégé.Good attributes for a strong protégé include ensuring that they over-deliver for their sponsors.Said another way, to make the job of the sponsor easier.A solid protégé must develop a strong personal brand, follow through on their commitments, and take control of their career. A protégé should not wait around for the sponsor to "make things happen" for them.Also, depending on how far removed the sponsor is from the protégé's day-to-day responsibilities, it's the protégé's job to provide the sponsor with up-to-date and accurate information about their accomplishments and to drive the relationship.I am so thankful for the range of sponsors over the years who have helped shape my own career.Interestingly, as others have said before me, most of my sponsors did not look like me.
Molly John, Audit Partner at EY: "I recognized that my mentors/sponsors were making an investment in me and my career; thus I made it a point to truly listen to feedback and accept any type of coaching with an open mind. Although I could have advanced without my sponsors, my path would have been much different and likely more challenging to navigate without their support."
Molly John is an Audit Partner based in the New York City office of EY and has more than 20 years of experience providing professional services to a diverse client base, from domestic private companies to large multinational public companies in the telecommunications, media and entertainment to diversified manufacturing industries. She also serves on the firm's Northeast Black Professional Network's (EY employee resource group) steering committee as well as the New York City Diversity and Inclusion Council.
Additionally, Molly serves as the Audit Committee Chair and Director of the United States Tennis Association (USTA) Foundation and a current member of the USTA National Junior Tennis & Learning Committee, International Women's Forum New Jersey Chapter and Baruch College Zicklin School of Business, Dean's Advisory Council. Molly received her BBA degree in accounting from Baruch College and is a Certified Public Accountant licensed in New York and New Jersey.
DI: Why is diversity and inclusion important to you?
Molly John: I migrated to New York to attend college from St. Vincent and the Grenadines, a small island to a large city where the racial makeup was significantly different from what I was accustomed. I was lucky to work with great teams throughout my career that made me feel included and like I belonged. As an audit partner at EY, I help my clients reach solutions to their complex problems.Numerous studies have shown that diverse teams perform better and discover better solutions than homogenous teams. A lack of diversity and inclusion puts companies and teams at a competitive disadvantage and here at EY, our clients are seeking the best answers and expect that our client serving teams.
DI: How do your mentors and your sponsors help you in your career? And were you a good mentee? And could you have advanced without a sponsor?
Molly John: My mentors and sponsors provided me with candid feedback that enabled me to leverage my strengths and recognize my weaknesses. They also challenged me constantly to seek and take on responsibilities that were outside my comfort zone. I recognized that my mentors/sponsors were making an investment in me and my career; thus I made it a point to truly listen to feedback and accept any type of coaching with an open mind. Although I could have advanced without my sponsors, my path would have been much different and likely more challenging to navigate without their support. Even as a partner today, I still rely heavily on my group of mentors and sponsors as I progress in my career because you never really learn it all.
DI: What kinds of things would you recommend that people do to stay on top of their game, and to signal to people that they are worthy of investment?
Molly John: First and foremost, be good at what you do. In other words "do your job". If you don't, you will be hard pressed to find someone to either invest in or sponsor you. Second, remain curious and continue to be an avid learner and consumer of information. Make sure you understand what is happening in your own industry as well as what's occurring in your client's sector or industry. Third, expand your network and seek out opportunities to showcase yourself. Let others know about you and get to see how valuable you are, which will in turn lead to new and different opportunities.
DI: What advice would you provide for people seeking to expand their career at a company where they already are, or as they navigate different organizations?
Molly John: Be a sponge! Identify and connect with individuals within the organization that are succeeding and excelling. Observe, ask and understand what they are doing to stand out from others and apply those similar techniques in a manner that is consistent with your authentic self.
DI: What advice can you give on developing executive presence?
Molly John: Executive presence can be learned and perfected through practice. Look around your organization, church, bank, family members, and so on, for those individuals that have executive presence; and, based on your observations, identify the critical attributes such as confidence, poise, articulation, appearance, facial expressions, body language, among other characteristics that form 'executive presence' and incorporate those attributes into your interactions in a natural manner that works best for yourself.
DI: How do you define success, and what career advice do you have for being successful?
Molly John: I define success by the amount of growth I experience in my career. I have found that some of the greatest successes are born out of failure. From an advice perspective, I suggest that individuals seek out challenging opportunities and learn as much as they can from them.
DI: What advice would you provide for people seeking to grow and get promoted at their current company?
Molly John: Take calculated risks and step outside your comfort zone. You may find yourself lulled into a false sense of security because you are doing your current job well. In my mind, growth often comes when challenged to execute and succeed on tasks that are outside your comfort zone. Seek out these tasks, embrace the discomfort, leverage your network to identify and acquire the necessary tools and execute to the best of your ability. Then do it again and again.
"I always look for people who have a broad spectrum of ideas who do not necessarily think just like me but can challenge me on a lot of different aspects," says Thomas, a Managing Director in Accenture's Infrastructure Operations practice and co-lead of the African American employee resource group.
By Alana Winns and Christian Carew
Thomas is a Managing Director in Accenture's Infrastructure Operations practice and a leader of the African American employee resource group. He gives his take on the value of diversity and inclusion.
By Alana Winns and Christian Carew
As a Managing Director at Accenture (No. 14 on the DiversityInc Top 50 Companies list), Rahnold "Rah" Thomas' primary focus is Digital Workplace Transformation and Infrastructure Transformation to the cloud.
The 37 year old is also the national co-lead for the African American employee resource group. Thomas works across all inclusion and diversity work streams, meeting with senior executives to improve recruitment, progression and retention of top talent.
He is a graduate of Syracuse University.
Otero talks with DiversityInc about his position, the importance of mentoring and sponsoring, and offers career advice.
Juan Otero recently began his new role as vice president of Corporate Diversity & Inclusion at Comcast NBCUniversal (No. 7 on the DiversityInc Top 50 Companies list).
Otero's impressive career has included many roles, such as serving as deputy director at the U.S. Department of Homeland Security, a lobbyist on Capitol Hill, and working in various positions at Comcast, all of which helped inspire his advocacy for inclusive environments.
"As I think about my professional journey, and the opportunities that have come my way, diversity and inclusion have always been at the heart of it," he said.
"I think a lot of that comes from my parents, who grew up in a world where they were not so welcomed when they came to the United States."
Otero's parents came to New York City from Ponce, Puerto Rico, and he was born and raised in the South Bronx. Otero explained that his father was identified as a special needs student by the public school system, simply because Spanish was his first language. This created obstacles for him throughout his education, and had a strong impact on how Otero was raised.
"That's what they did with Spanish speakers," he said.
As a result, Otero's father did not want his son to speak his native language, because he wanted him to assimilate into American culture. It wasn't until later in life that Otero learned to speak Spanish.
"So, it's a very personal thing for me to see this transformation of the United States — how we now talk about the ties that bind us and the things that make us unique," he said.
"Diversity & Inclusion is that important piece that helps drive the conversation."
'Placing D&I in the DNA of a Corporate Entity'
Otero oversees the strategy and implementation of diversity and inclusion initiatives across Comcast NBCUniversal in five focus areas: governance, workforce, procurement, programming and community impact.
He also works closely with Comcast's Executive Internal Diversity Council, its Workforce Diversity & Inclusion team and the external Comcast NBCUniversal Joint Diversity Advisory Council.
Otero, who has been with the company since 2009, previously served as vice president of federal government affairs responsible for federal legislative advocacy with members of Congress and the Administration. He was also responsible for developing strategies for achieving corporate legislative objectives.
"Having been a lobbyist on Capitol Hill, having worked in various roles at Comcast, it's always been, for me, a fascinating dialogue watching the intersection of public policy and issues around diversity and inclusion, and how they manifest themselves into American life," Otero said.
He will continue to utilize his legislative skillset of "messaging, educating and supporting efforts to make change."
Otero added that he has been "very close to our D&I efforts from the beginning, when we started this journey at Comcast," and he has been fortunate to see the company's growth and evolution to becoming an innovator in the D&I space.
In 2017, Comcast moved up 10 spots on the DiversityInc Top 50 list.
"With the support of our senior leadership, David Cohen [senior executive vice president and chief diversity officer] and Brian Roberts [chairman and CEO], D&I is embedded in our business and culture."
Otero also said the process involves "having strategic engagement, both internally and externally, with national leaders and our joint diversity advisory council."
"It's many, many moving parts that have so many of our business leaders driving it," he added. "But it's certainly a commitment that is here to stay and one that we have to continue to always make progress on."
Mentoring and Sponsorship
Otero admitted that when he was younger, he was "an absolutely dreadful" mentee.
He explained that he initially fought the mentorship process because "I always thought that I didn't need it."
"But once I got involved in the process and went through the process," Otero explained, "There were so many key learnings that I still hold today."
Now, Otero said he seeks the advice of his mentors and sponsors everyday.
"In my Comcast life, I've had amazing friends, leaders…I still do," he said. "They have really helped guide and shape my path."
Otero currently serves on the executive committee of the Congressional Hispanic Caucus Institute (CHCI), a nonprofit and nonpartisan organization, providing leadership development programs and educational services to students and young emerging Latino leaders.
"I was a product of CHCI," Otero said. "Candidly, I was a poor kid from the South Bronx. I wanted to go to D.C. and I wanted to experience that world. Because companies like Comcast sponsor fellows and internships, people like me get the opportunity to spend a year working on Capitol Hill."
He said being on the committee "is a labor of love."
"CHCI has created so many amazing leaders," he said. "And touched so many kids."
Otero works with the students in Washington, D.C., sponsored by Comcast NBCUniversal.
"I don't believe you just write the check," he said. "I think that you make sure that you connect with these kids and stay in contact with them and help give them the network that they need."
Otero also serves on the boards of Make Room USA and the Congressional Hispanic Leadership Institute.
Career Advice
In regard to advice for those just starting out in their career, Otero said it's important to figure out what you're passionate about.
"I knew that I loved the law and I wanted a law degree," said Otero, who holds a J.D. from the Benjamin N. Cardozo School of Law and a M.P.A. from American University.
"I knew I liked public policy, so I worked toward those things."
He also said to be a continuous learner.
"It's knowing what you're passionate about and educating yourself about it over and over again," Otero said. "Never get stagnant in terms of your brain power."
The advice he offers to those already in the workforce is to know when it's time to reinvent oneself.
"I had a really amazing job in D.C.," Otero explained. "I think I was pretty good at it. I enjoyed the work, but I needed that next challenge."
He said when the D&I opportunity came forth, he asked himself the question, "Am I ready to challenge myself with the next role?'"
If you're considering a new challenge, Otero said to also reflect upon the question, "Am I working in place or am I managing my own career?"
As managing one's career is "something that only you are responsible for, at the end of the day," he said.
Sam Johnson, EY's Americas Vice Chair and Southeast Region Managing Partner, talks about the importance of sponsors, his passion for early childhood education and why it's critical for Black and Latino kids to get involved in STEM early.
By Alana Winns and Christian Carew
Sam Johnson is the Americas Vice Chair and Southeast Region Managing Partner for EY. He is responsible for 19 offices housing more than 5,000 employees spanning across various markets and industries. During his 20-year tenure at EY, Sam has also served as the Global Client Service Partner and Senior Advisory Partner on several Fortune 500 accounts. While Sam's leadership roles validate his business acumen, his commitment to building and sustaining a strong diverse and inclusive people culture is his passion. He has received various accolades regarding his people impact, including being recognized by Savoy Magazine as a Top 100 Most Influential Blacks in Corporate America.
Sam's Passion for Early Childhood Education
Why Black and Latino Kids Need to be Involved in STEM